Incredible Party Buses & Limos!
You'll find superbly appointed party buses, luxury limousines, and so much more in the garage of Jacksonville Party Bus! We ensure that each and every luxury vehicle in our fleet, from small to large, all come equipped with the highest level of luxury and a wide range of amenities for you to enjoy.
EXPLORE OUR FLEET!
Agents available 24/7!
The awesome staff we are blessed to work with here at Jacksonville Party Bus is always ready, waiting, and (most importantly) HAPPY to help you! Whether you simply have a question you need an answer for, or if you're decided and ready to make your reservation... We will do all we can to help!
904-323-0724
Call us for the luxurious, reliable, affordable service
Party Buses Jacksonville, FL
Jacksonville is a charming, ocean side city that attracts visitors from near and far with its endless opportunities when it comes to fun. Whether you're visiting the amazing night clubs with your friends, or just looking to get a personalized tour of the city, you can trust us to provide you with a luxury fleet of party buses for your next night in Jacksonville. Come and see why were Jacksonville's favorite party bus company!
Read more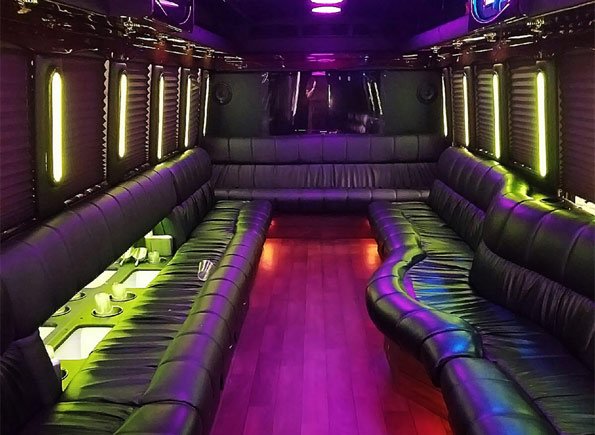 Jacksonville Party Bus is here to offer world class professional transportation services in luxury vehicles, with a smile. We're qualified to provide party bus and limo service for kinds of events, including weddings, birthday parties, sporting events, bachelor parties, and more! If you're just looking to be guided around the city, or you have an itinerary that needs following, we've got you've covered with expert transportation. Whether you're just calling around for a price quote, or it's the final drop off, you'll find we offer amazing customer service from start to finish. We are also qualified to refer you to top quality companies like us. See Wichita Falls Party Bus or if you're in South Dakota check out Sioux Falls Party Bus
Read more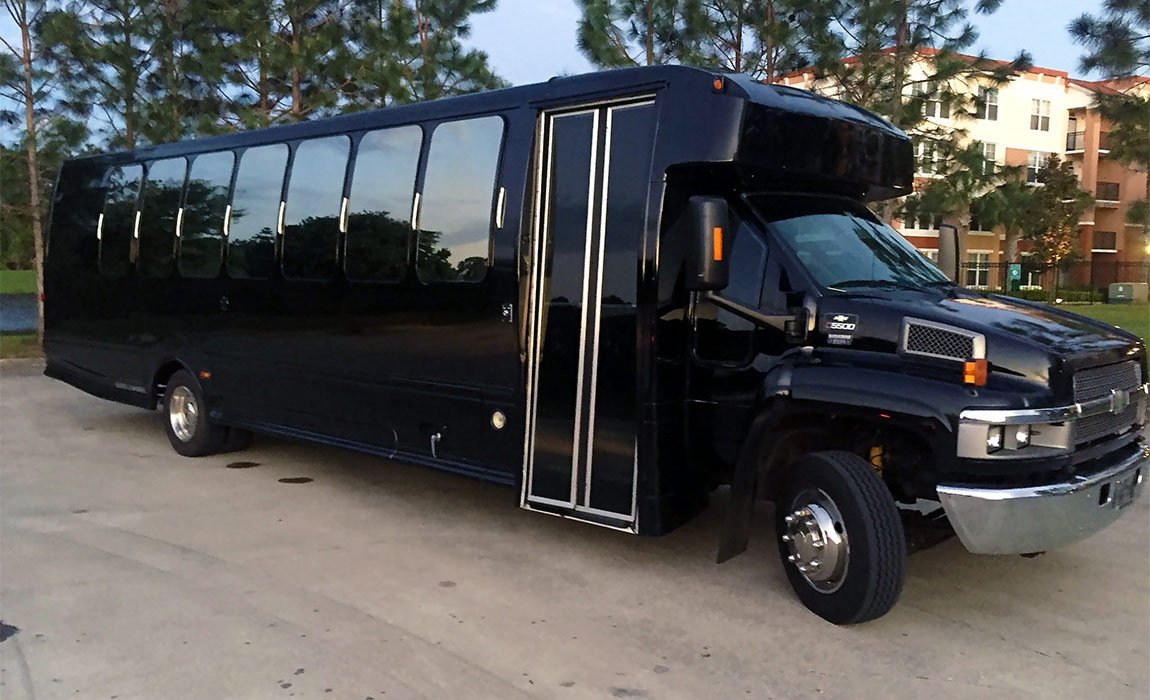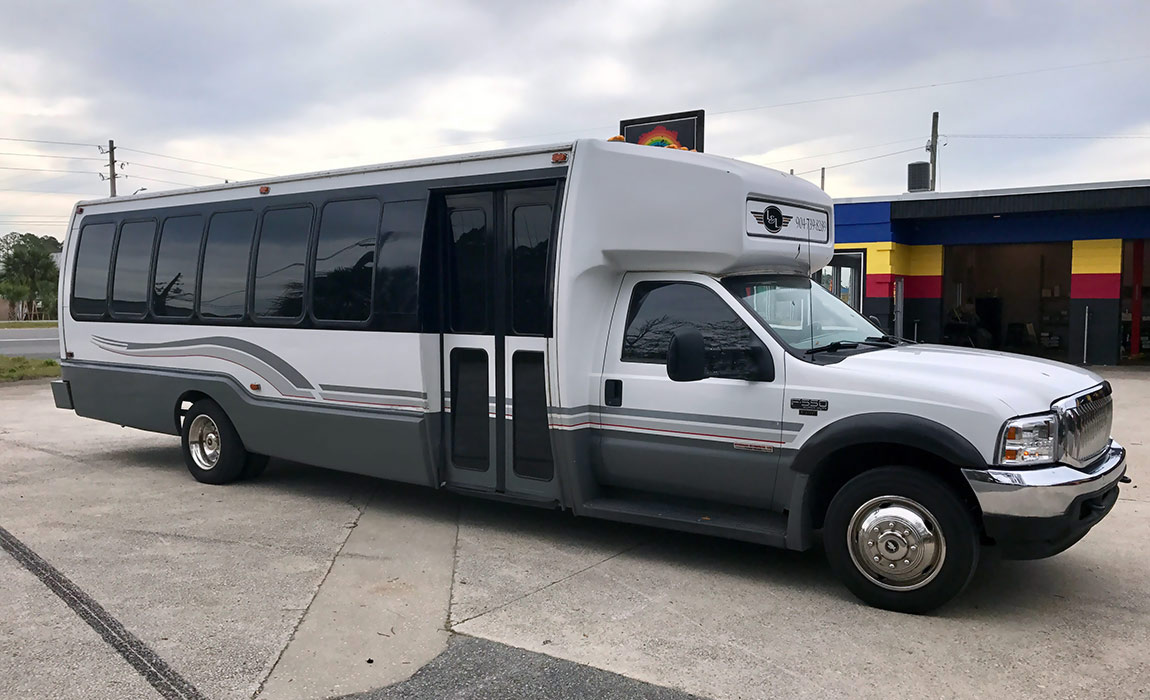 30-32 Passenger
Black Party Bus
The first of our party buses is ready to take on any event, no matter what! You'll be glad you booked this luxury vehicle as soon as it arrives to pick you up in style like a VIP.
28-30 Passenger
White Party Bus
You and your friends will love this feature filled unforgettable party on wheels! The newly updated leather interior gives it a contemporary feel, and the amenities inside are what keeps our customers coming back for their next special occasion.
Choose us for the best
Jacksonville party bus rentals
Why should you waste time trying to gather your group together in one place while all traveling in separate vehicles? There's the endless calling each other on your cell phones to figure out where everyone is. Maybe so-and-so is late. Maybe that one got stuck in traffic. Maybe someone got lost. At the end of the day, you've spent more time waiting, texting, and calling each other dealing with logistics than you have spent together! In this hectic, fast-paced world, what we want on our day off with friends is to actually spend that time. To be face-to-face, catching up on our lives, and getting a break from the grind. You can do all that with ground transportation from us. You double or triple your fun, social time when you book a limo to travel in style!
In addition, if you're the type who just hates battling traffic to and from events, or even worse, getting stuck in full-on traffic jams, then our chauffeur service will bring you even more joy. You won't even mind the worst traffic jam on the planet if you're in one of our vehicles! You'll be busy enjoying the conversation, dancing to your favorite songs on our stereo system, or watching something entertaining on our HDTVs. If you're the type who likes to play bartender, you can mix drinks at our built-in bar and entertain your friends that way. It really is such a blast when you get together with all your best friends and hit the road with us.
Of course, it is also a major perk to be traveling with a professional chauffeur at the helm. This is what enables us to allow you to enjoy your favorite drink on board, and that's what helps enable you to fully relax, knowing that you don't have to concern yourself with directions or even with what's going on on the road. You can just shout out a destination to the chauffeur and he or she will drop you off curbside before you know it! No trying to find the address on your smart phone while driving. No trying to figure out how to get there. No worries about group transportation logistics, your chauffeur is well equipped to take care of all of your transportation needs while you enjoy a night on the town in the company of friends and family.
Our chauffeurs are professionally trained and the best in the transportation industry. They are courteous and professional, truly the kind of person that you would want to be behind the wheel. We hire only the most ideal candidates who demonstrate their proficiency on the road. They have skill and experience, a combination that adds up to a truly worthwhile employee for us and a perfect driver for you. They will drop you off and pick you back up right at the door of all your destinations, making you feel like a celebrity in your own hometown! This is glamor and luxury at is finest, and it's all yours when you travel with us!
In short, everything adds up to making your special day, that much more special. Adding chauffeured luxury transportation to your celebration or fun night out on the town adds both fun and safety into the mix. All, at a cost that isn't much higher than a substandard form of transportation like a taxi (if everyone were to travel and this way, and pay separately).
Looking for comfortable and reliable charter bus service? Click here!
---
Are you ready looking for an affordable price quote or are you ready to book a Jacksonville party bus for your special even? Call us today or send us an email for a quote, we're eager to hear from you! You'll love the affordable prices on all of our Jacksonville party buses and limousines! Our agents are available 24/7. We'll find you the perfect party bus at a great price!
We service all
Events & Occasions